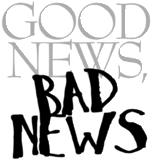 It was my turn today to visit the doctor. Unlike the
girl's visit yesterday
, for good or bad, I at least walked away with an official diagnosis. Yup, no doubts now, it's Rheumatoid Arthritis. That's the bad news, the good news is:
Although the blood level was high, my x-rays showed no damage.
I won't be crippled or hobbled in any way.
No one will even know I have it (except you, my blog readers) because it will not deform me in any way.
I can still exercise, walk, lift weights, etc. with no harm to my bones or joints.
The doctor feels we caught it early enough to not only treat but maybe even put it into remission as long as I follow his treatment.
The treatment includes 4 pills once a week and one daily dose of Folic Acid.
The pills aren't expensive.
Follow up visits and blood work will be required every eight weeks to check my liver.
I can still have a glass of wine with dinner. However, after I did some research on this drug I have discovered I should not have any alcohol at all due to the possibility of cirrhosis of the liver, although some doctors say one or two glasses of wine drunk four days after taking the medication shouldn't be harmful. Well, that sucks. Guess what I'll be doing tonight. Maybe I shouldn't start until Monday.
And the best news...I lost 7 pounds in two weeks! I'm following the Sugar Busters Diet, although not to the tee, but using the guidelines to meet my lifestyle. So far, so good. My goal is to lose at least 20 pounds by Christmas and if I keep this rate up I can achieve that.
One of the best parts of this diagnosis has been it's given me a new outlook on life. I'm not procrastinating as much as I have in the past and am pushing myself to complete physical endeavours while my hands aren't hurting. One of those is my rewrite. In the last ten days I've rewritten/reworked/slashed over 15,000 words. I have two other book ideas that keep pushing into my brain, but I cannot begin something new until I have this one query worthy. After one person recently read the first couple of rewritten chapters he said he was so moved that he felt it was my "duty" to finish it and put it out to the world. Too bad he's not a literary agent!
The bad news is that when I find myself reading some writers/agents/publishers blogs lately it dampers my enthusiasm. It's almost like something is trying to stop the locomotive from barrelling through just as it gets up to speed. So, what I've decided is that I am going to avoid many of them. Not only are they depressing me but they are taking up too much of my time. At times I feel the same way about this blog -- well not the depressing part ;)
Time, time, time just slipping away. I've also decided to try and spend less of the precious commodity tooling around the internet. Facebook will probably not suffer much as it's a quick hit and then I'm outta there. Twitter is useless so that's definitely gone. Arguing with idiots on the local media blogs is also gone. We'll see what happens to my blog.
I plan to enjoy these last days of summer, I mean first days of fall, even if I am complaining about the heat because I know in a couple of month's I'll be bitching about the cold, and who knows what my hands will feel like then...