We saw my daughter's regular doctor this morning. She performed a battery of tests and based on her symptoms, as well as my daughter's history of osteochondromas, she is ordering an MRI to scan her brain. She used the "T" word as I feared.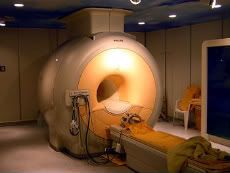 Her doctor also said it wasn't "normal" that the girl suffers from a constant ringing in the ears. Don't we all hear a constant ringing in the ears? Apparently we don't. So she is going to schedule an appointment with an ear/eye/nose specialist for her.
Regarding the actual headaches: her doctor had a different take on migraines than
the previous doctor did
, so she hasn't ruled them out totally. She has prescribed some "preventive pills" that the girl will have to take daily in the evening as well as a "reliever pill" in case ibuprofen doesn't work (it doesn't.) The "preventive pills" take a month to get into her system.
When her doctor asked about her pain level, my daughter responded as I thought she would...she can't really gauge how bad pain is because she's always been in pain throughout her life. Her constitution is not the same as the average 17 year old girl who crumbles in distress when she gets her period. So my daughter's 5 might be someone else's 10.
My life is on hold, again, while I wait for the phone to ring to find out when and where we have to go. I'm not going to panic. I am going to be as strong and tough as my daughter is. I pray this is just a "glitch" and she'll be fine. At some point she's got to catch a break, right?